Howdy all! I am so excited to be bringing you my first Design Team project for My Scrap Chick. I have always loved their files and now I get to showcase them to all my readers. I can't wait to design with all the new adorable files they have. Just you guys wait and see what we, the team, have in store for you!
I know Halloween is all about the candy, but when you are limiting your sugar you have to think of ways around it. Enter these adorable Halloween nail polish gift boxes. My nieces have inherited my nail polish obsession. Of course, their mother would say they got it from her as she does acrylic nails for family and friends. I'm still going to claim they got it from me. Anyway, I found this adorable Disney Villains nail collection at Walgreens. They were on sale and I had a coupon, it was a must buy at $3.01 with tax for 12 polishes. Then if I split it between the girls and I, we all get to be villains. hehehe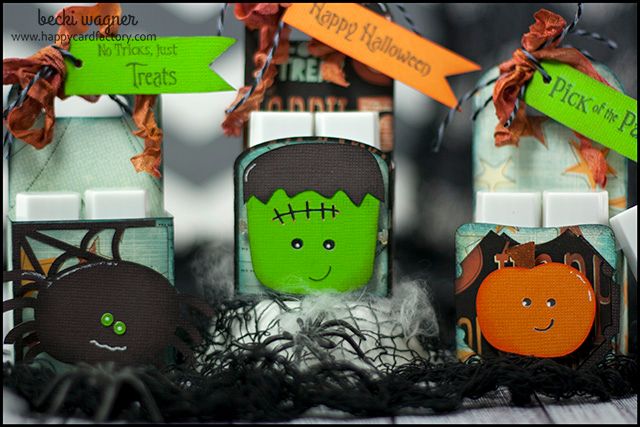 I just love the Franken-tastic set from My Scrap Chick. It can be used in so many ways. Look at Frankie's face – too cute to spook! The boxes are from the Caddy Essentials set. There are quite a few caddies in the collection, some small like these to hold nail polish or bags of tea and others big enough to hold jars of jam. The caddies are a must have set if you are a gift giver. Then you can take just about any file from any season and decorate to your heart's desire. What do you think? Are these frightfully adorable or what? I cannot wait to give these out on Halloween. I have to score some more nail polish in Christmas colors and make a bunch for the ladies at church. Or maybe a nice mint or ginger tea with gingerbread graphics for the front. Oh, the ideas are already churning….
Supplies:
Franken-tastic
– My Scrap Chick
Caddy Essentials
– My Scrap Chick Night and Fall paper – Recollections
Gray Licorice
Trendy Twine
Ghostly Greetings – My Thoughts Exactly
Crinkle Ribbon