Hello, everyone! I'm here with a pretty nifty project today. A faux wood sign that is perfect for those that love Coastal design. My youngest came over checking out my progress and asked me where I got the wood blocks from. Guess that means I did a pretty good job with Fleurette Bloom's files.
Oh and speaking of the beautiful Fleurette, I am so incredibly happy to announce I am the newest member of her Design Team!! She is such a super sweet lady and I get the pleasure of working with a couple of wonderful ladies I have been on other teams with in the past.

I love all the design elements you get in Fleurette's files. Such a great value to mix and match, plus they cut so well and piece together beautifully. She really knows how to design a kit!

For this project I used the "Live, Laugh, Love" kit as the base of my faux wood sign then overlayed the plaques with elements from "Ships Ahoy!" and the "Sunshine" file.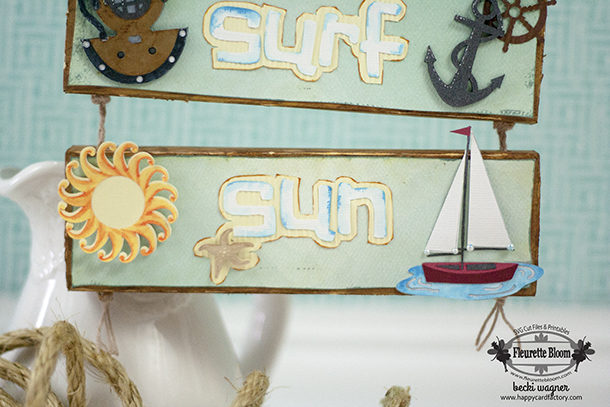 To get the faux wood look on the "Live, Laugh, Love", I used about 4 different colors of Distress Inks. Sponging and dabbing on in various patterns. To give a more weathered, I took a craft knife and chipped, then frayed the edges of the plaques. I scattered them a bit on the twine to look like they had been hanging in the salt air for a while. The "sand, surf, sun" sentiment does not come in the kit. I used a beach look font with a shadow layer including the starfish that comes with the "Ships Ahoy!" elements.

To get the watercolor effect on the sun and seagull, I used a water brush directly on the Distress Ink pads. To just highlight and contour the cuts. Brushing over with just water to blend and wash out a little color. I really love the way it looks on the sun. The water helped make the paper soft so I could scrape the wing and give a feathery look to the seagull.
Now that I live minutes from the beach, my faux wood sign will help kickstart the re-decorating of my living room to a fabulous coastal look. I can't wait to hang it! Thanks for stopping by. If you have any questions or comments, please type away. I love hearing what you guys think. Have a great day and happy crafting.
Supplies: