I can come up with some catchy titles, eh? LOL It gets hard thinking of clever names for your blog posts after about a year of blogging, so I say go with what you know. 😛 And I know rocking horses. Especially ones for little boys. You know the ones I am talking about too. They are pretty much destroyed by the time the first boy gets done with it that you have to buy another one for the second child. Thank goodness no little boy will get a hold of this one. I'm pretty sure his mommy will keep it from him. I just had to show the gift I got to put inside. Isn't it too perfect for this bag?!? I love it!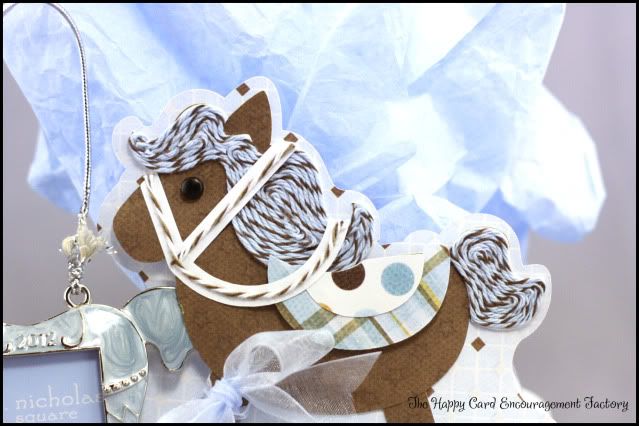 It was nice to finally make a boy version of this horse after making nothing but girl versions of this set. See how I used the spotlight twine – Chocolate Sprinkles? I just love how the tail and mane turned out. I am soooo not going to tell you that was the longest part of this project. Ooops….guess I just did.
Don't forget you still have a few days to enter the challenge and win 50 yards of this yummy color! If you don't have time and just want to purchase it, you can find it at the store. Grab it while it's on sale. Have a great day and happy crafting!
Supplies:
Bundle of Joy kit by SVG Cuts
Twinkle Twinkle Little Boy stack by My Mind's Eye
Chocolate Sprinkles & Chocolate Truffle by Trendy Twine
Recollection ribbon and brad for eye
Rocking Horse ornament from Kohls