OK everyone, I have been bursting at the seams to shout for all to hear that I am a new member of the
Trendy Twine
Design Team!!! I cannot believe Lesley took the bribe and added me. LOL Hey, it cost me quite a bit of dough….juuuuuuusst kidding. She must have a soft heart because I didn't think my submitted projects (which you will see below) were all that great. Or she just needs glasses. I'm thinking the latter. Anyone who reads my blog regularly knows I love my Trendy Twine! It's the bestest, softest stuff on the planet. I just don't know how I would craft without it!I guess I will show you my two submitted projects. But first, make sure you check out the other new Design Team members over at the Trendy Twine blog. I am in very awesome company. So much so that I am extremely nervous. My projects are going to look like doo-doo compared to these ladies, let me tell you.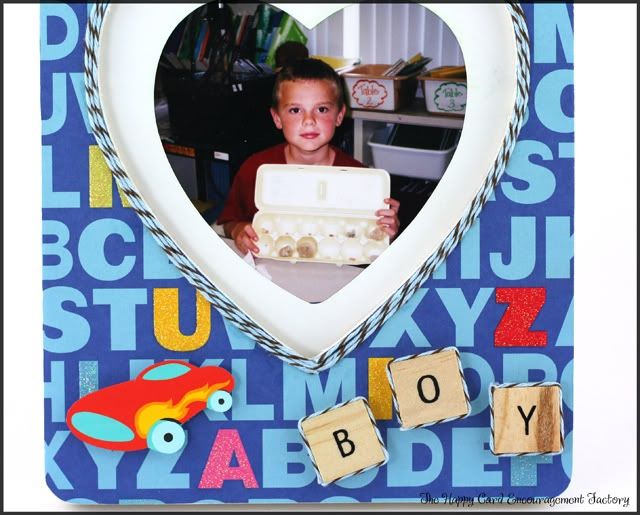 That's my youngest in his old classroom showing off his rock collection before I started home schooling him. Speaking of that, Lesley wanted me to tell you a little about myself. I would like to just direct you to the "about me" page and be done but she might smack me. There isn't much to tell. I am a pretty vanilla kinda girl. As you might now know, I home school. I have been at it for about 8 years. I have two boys and my oldest graduated a few weeks ago. That leaves me only one to teach for the next two years and more time for crafting. Yeah buddy! It has been a fun ride for my husband and I. Our boys are great and even help me make projects.
He thought I was crazy to start blogging about my crafting. What in the world can you say about a piece of paper, he would ask? Umm, has he not been listening to me for the last 19 years? I can talk on and on about a blade of grass! As evidenced by this rambling blog post and my one year blogiversary coming up this week on the 7th. (Wow, it's been a whole year I have been annoying people on the interwebs) Obviously I can say a lot. Thanks for stopping by and joining in on my excitement of making a team I have coveted being on for a while. But Lesley wants you guys to be really excited about the new team announcement along with us so she is having a giveaway. Cool beans, right?
How to win: just leave a comment on ALL 15 of the blogs. That's it! No cheating, Lesley will be checking. hehehe She's mean like that. : P What do you get if you win? A spool of first-rate twine in the color of your choosing. Not bad, huh? Didn't think so. Thanks again for stopping by, good luck and happy crafting! And don't forget to leave some love on your way.