Featured in the March/April 2013 issue of CuttingEdge Magazine:
OK, not really french fries but something just as good – coffee! I love to give gifts to my family and friends all year round. Easter gives me the perfect opportunity to whip something light and cheery up. It's even better when I can tell them how I feel in a silly or non-traditional way. Just like the phrase I used here. It goes perfect with the french fry box, right? I know the coffee doesn't really make sense, but that is entirely the point. Don't worry, most of my friends already know I'm nuts.
My french fry box came from the
Sizzix Albums, Bags & Boxes #2 cartridge
. The cute little flower was even an embellishment to go along with it. I just want to show you real quick why I love my Sizzix eclips. The automatic scoring. Take a look at the clean lines on this box.
Yes, I know other machines can score, but I have to fiddle with pressure and/or blade adjustments. The Sizzix eclips does all this automatically when using a cartridge. It can also be done within the eCAL software too, you just have to manually set which lines you want to score. That method is super quick and easy also.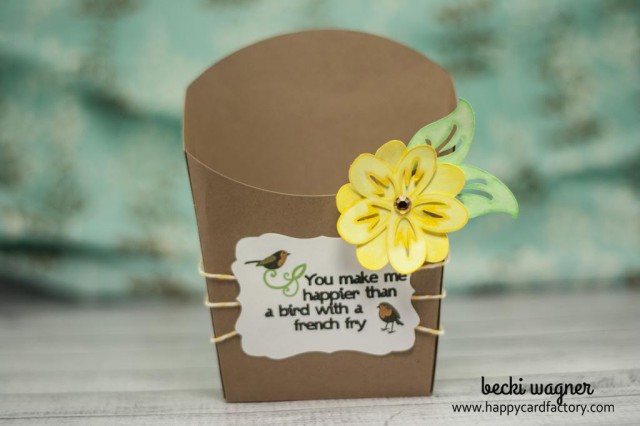 If the coffee doesn't do it for you, I have a few pictures of the box without the coffee. You can see it is quite large. It can be filled with lots of chocolate-y goodness or maybe some sugar cookies in the shape of french fries. You could also make ketchup for dipping out of red colored frosting. Yum yum!
Supplies:
Cut Files: (box, flower with leaves)
Albums, Bags & Boxes #2
, (Robins on printable)
SVGCuts
; Cardstock: kraft, white; Embellishments: (Lemon Tart) Trendy Twine, (yellow gem) Recollections; Tools: Spectrum Noir markers, Sizzix eclips, eCAL software