A very spooky Halloween sign to be exact! Hi, I'm back with scary uses of twine for this heart-pounding holiday. OK, my ghosts aren't that scary but I do think it was a genius use of the Orange Licorice twine, if I do say so myself. LOL I don't decorate for Halloween, but my sister asked if I had made anything else that she could steal to decorate her home. I think this is definitely for her. It's my brother, me and her all in ghost form. My brother is the first one, wondering why he was blessed with two sisters and instead of brothers. Poor guy. 🙁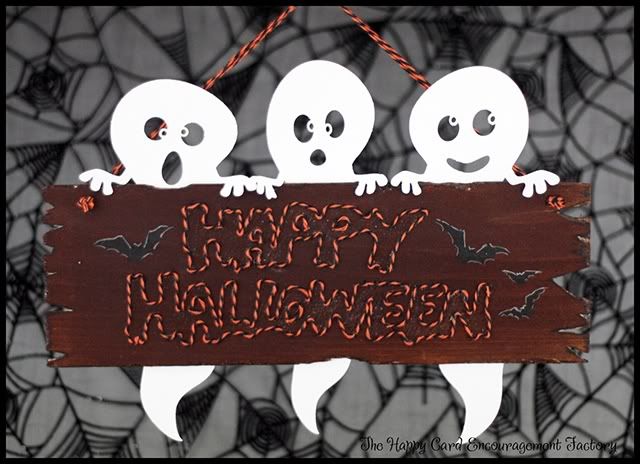 It's hard to get a glimpse of the Wink of Stella glitter pen I used on the inside of the lettering from my camera. So if you are wondering what that weird looking stuff is, blame my camera for not picking up the cool iridescence of the pen. Much shinier in person. LOL
To make the sign, you need balsa wood cut to the size you want. It's pretty easy to do this yourself as the wood is pretty thin. I cut the ends to make them look old and distressed then proceeded to just rub my ink pad across it. For the lettering, I needed to tape the wood down on my mat to make sure it didn't stayed put.
In went my Millennium pen to outline the letters and bats. (This is why I love my Gazelle so much!) I can't remember where I got the graphic. It was before I had my blog and didn't keep track of such things. Since the wood is too thick to go under the rollers, I moved them to one end and placed the board vertical versus horizontal on the mat. Hit cut, and let it do it's magic. I then put a bead of glue tracing the letters, and laying the twine around. Cut out the ghosts and glue to back. I made them a little under 3″ and cut them in half so they would show the whole ghost behind the sign. I colored in my bats with the ZIG Writer in black, then outlined them with the Calligraphy pen in silver. I think that is everything.
Hope you enjoyed my sign. You know I love comments. Have a great day and happy crafting!
Supplies:
Balsa wood
Orange Licorice by Trendy Twine
Seasoned Halloween (ghosts) by Lettering Delights
Stained with Distress Ink in Walnut Stain
ZIG Memory System Writer in black
ZIG Memory System Calligraphy Metallic in silver
ZIG Memory System Wink of Stella in gl. clear
Kuretake ZIG Millennium in black 03
*Submitted to Anything But A Card challenge