Ahhhh, St. Patrick's Day….erm…well……hmm….what to say….is it really a holiday….ummm…OK, I got it…..I'm happy it's going to be Spring soon! Sorry, I couldn't help it. I mean, those of us who don't celebrate it by not being able to walk a straight line by midnight, there isn't much for me to say.
Is there really, have I missed the point? I have read all the information on him, but still don't understand why we make a big deal once a year. Help me out here, readers. I need to know. That obviously doesn't stop me from crafting cutie shaped cards to send my family and lots of cutting files. *shrug*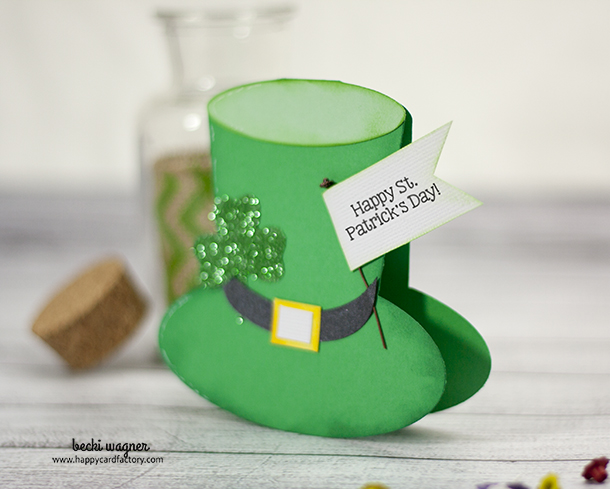 Maybe because my baby sister's birthday is tomorrow, our family didn't make a big deal out of it even though we are of Irish decent and it was the pet name my grandfather called my grandmother. You think we would have been more into it, made corned beef and cabbage or soda bread. Nope, not us. Guess we are just lame-o. haha
Oh wait, I always paint my nail green the week before! That counts for something, right? I made this shaped card too. Oooo, I get double St. P points then. Boo ya!
For your crafting pleasure, the leprechaun hat cutting file is available in my shop. It is just the hat with the elements, it does not have the card base. If you want to make it a card like I did, you will have to work some magic in your cutting software of choice. Let me know if anyone wants a tutorial on taking an element and making a shape card. Maybe I can whip something up.