Well, lookie here. I actually have a
Make the Cut
forum
challenge
post up before the durn thing closed. I must be getting faster…nah….it just was a pretty easy challenge. Trish made this cute
Tag Bag
for us all to decorate. This is perfect when you need a gift bag pretty quick. I also needed something to put those huge flowers I accidentally purchased. Note to self, read the product description when ordering online. I had no idea the flowers were that big. Oh well, they work fine for this project.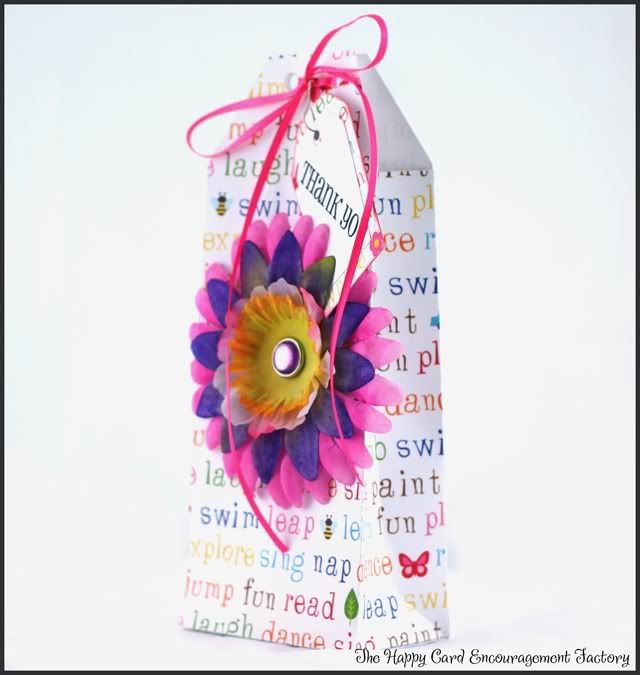 Get why it's called a "tag bag"? I believe Trish said all she used were basic shapes available in Make the Cut to create the bag. Even though I home school I still have a need once in a while to make a teacher gift. My boys have to be evaluated at the end of the school year by a certified teacher who then tells the state if they are on grade level. So I made a thank you goodie bag for all their hard work. I thought the papers I used are pretty funny since they are more elementary and my oldest is graduating High School. heheh
Feels good to be able to get a forum challenge done. It's been a while. The last one I actually had time to do was the Bee-utiful Bee card almost a month ago. Go me! Hope you all have a early start to your weekend with relaxing and being crafty. See you next time!
Supplies:
Toy Box by KI Memories
Thank You from A Jillian Vance Design
Pear Pin (silver) from A Jillian Vance Design
Tag Bag from Make the Cut Forum Challenge