Hello faithful readers. Thanks for stopping by again to check out my latest project. If you are coming from my Trendy Twine
post
, I thank you too for visiting. Stop and stay awhile and oogle all my other
Trendy Twine
related projects. There are quite a few. I am rather obsessed with my Trendy. ^__^
Anyhoo, on to my project. Seeing as my nephew is obsessed with Buzz Lightyear lately, I decided to make him a rocket ship mobile with trailing stars to hang in his room. He loves it already and has been caught a few times walking around with it while Aunt Becki was still putting it together.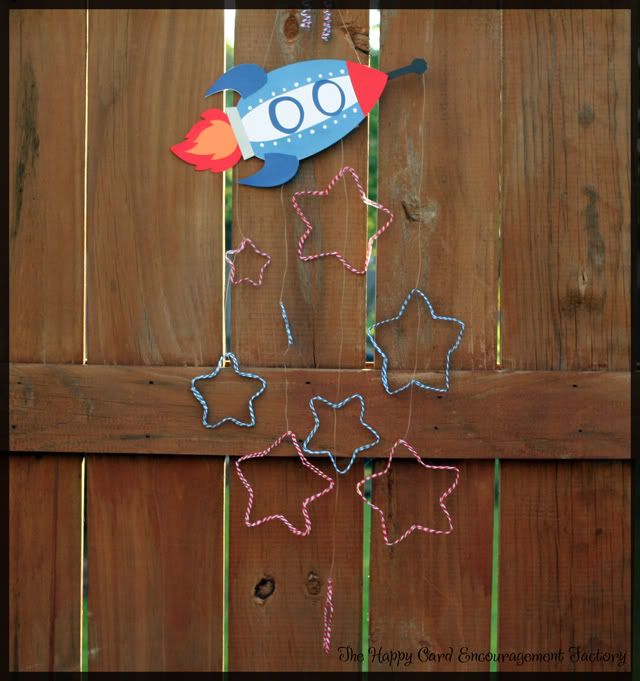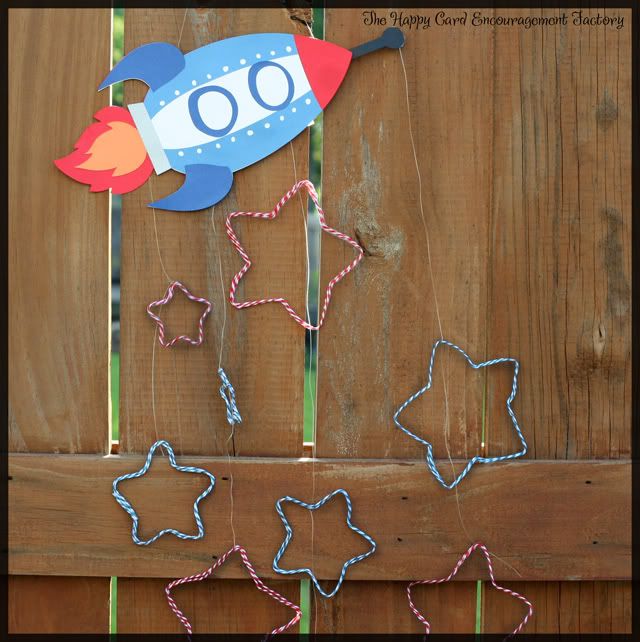 I really need to rig up a bigger lightbox for larger projects like this one. Just couldn't get good light when it was hanging in any room. I don't like taking pictures outside because it is so windy here and everything blows around. *shrugs* I just hope you guys can get an idea of how this will hang and see the stars good enough.
Speaking of stars, these are super easy to make. Time consuming but easy. I just happen to have three different sized plastic star cookie cutters. You need a star shaped cookie cutter, foam brush,
Stiffy
, and
Trendy Twine
. I slowly wrapped the twine around the outside of the cutter, sponging
Stiffy
as I went to stick the twine, making sure it was bending to the nook and crannies. It was be messy but I made sure to really soak it. Otherwise, the twine will want to pop up and not keep its shape. I let them sit overnight to insure they were dry all the way through.
When I was ready to slide them off the cutter, I took a butter knife and ran it around the edges like you would for brownies (mmmm, brownies...) in the pan. There may be some extra Stiffy attached to the stars. Just cut that away. The stars are going to be soft, so I wouldn't man handle them too much. But the good news about that is if a 2 year old comes by and tries to make them a square, you can just bend them back into shape. Ask me how I know that. If you have any other questions about the stars or my project in general, just leave a comment and I will get back as soon as possible. I am working on only a few hours of sleep and not sure my explanation is making sense. But most of you should be used to my nonsensical ramblings by now.
Supplies:
Rocket Ship
Cut-It by Lettering Delights
Fishing line
Stiffy
fabric stiffener by Plaid
Star shaped cookie cutters
Berry
&
Blue Berry
Trendy Twine