I wanted to have a go with the State Line Co. bags again. But this time I wanted to stamp on them to see for myself how they turn out. I kept my goodie bags pretty simple for my little nieces. Knowing them they will want to keep them, so they will get used pretty good. Probably put hair bows or something else girly and take away from the spookiness. Girls….*sigh*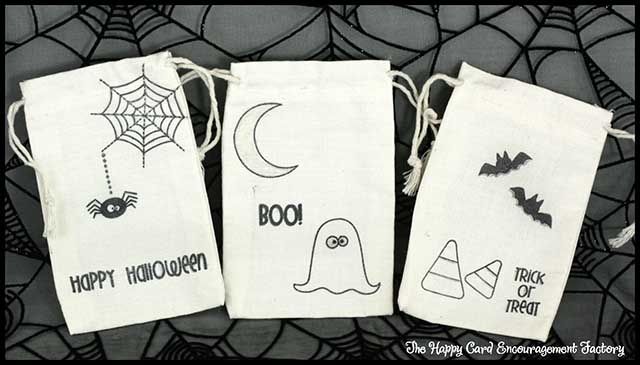 Here is a shot before all the yummies were poured in. My camera didn't pick it up very well, but I hit the ghost, moon and spider web with the ZIG Memory System Wink of Stella pen in clear. Just gives the right amount of silvery shimmer. Under the bats and the candy corn, I used the ZIG Memory System Calligraphy metallic colour pens in silver to give them dimension. Of course, all the lovely images you see stamped here come from just one amazing set – Fright Night Friends. So many images, so little time. Ahhh…..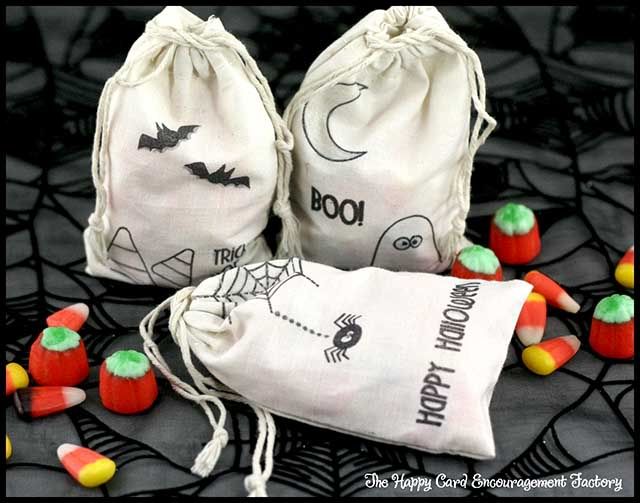 Now they are filled to the brim with candy corn and those gross, hard little pumpkins. Who invented those anyway? It's amazing what kids will eat. LOL That's all for today. Have a great day and happy crafting!
Supplies:
Fright Night Friends by My Thoughts Exactly
Canvas Bags from State Line Co.
Wink of Stella (clear) by Kuretake ZIG
Calligraphy Metallic Colour (silver) by Kuretake ZIG